Our Services
Traditional Funeral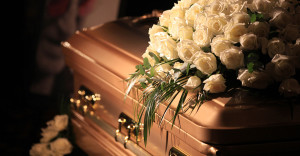 Inishowen Funeral Home is situated on a quiet road in Roxtown, Tooban. It is equipped with an office, an embalming area, coffin room and chapel of rest. Our chapel of rest can accommodate both large and small groups, where family and friends can gather to celebrate the life that has passed. This choice of funeral service is a traditional custom, which involves an evening removal from the hospital/hospice to the home residence/church for a wake. The deceased repose in the residence for 2 nights for friends and loved ones to say their goodbyes and pay respect. The deceased is then taken to the church on the morning of the third day for Funeral Mass/ Service after which, the Funeral would proceed to the graveyard.
Cremation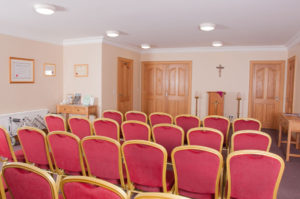 Another option is to have a Funeral with little or no religious reference. These services often take place in cemetery/ crematorium chapels, and can be as simple as family members or friends saying a few words at the service or conducted by a civil celebrant. Again these services, then proceed to the graveyard/ crematorium.
Repatriation
When your loved one passes away in a foreign country and wishes to be buried back in Ireland, an extra dimension of painful difficulty can present itself to the grieving family. Inishowen Funeral Services are experienced in the international repatriation of remains to and from Ireland and we can take care of all the arrangements for you and for a funeral service to take place locally.
If a loved one has passed away in Ireland and you would like their remains to be repatriated to the country they called home, we are also able to make all the necessary arrangements. We will arrange everything such as obtaining the appropriate paperwork, e.g. death cert, out of state papers, and dealing with various embassies.
Eco-friendly Funeral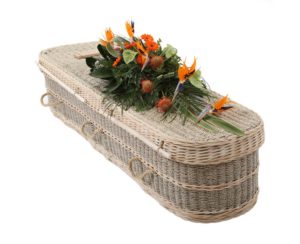 We are conscious, that todays society expect "greener" options when it come to many services and we believe Funerals should be no different. Were possible we offer environment-friendly options, including our coffins. We stock a willow option which is woven using traditional methods as an alternative to traditional coffins.
Planning Ahead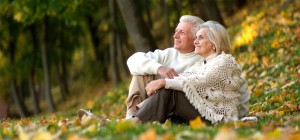 Inishowen Funeral Services are affiliated with Golden Charter Funeral Planning. Golden Charter is a registered provider of funeral plans and complies with the rules and code of practice of the Funeral Planning Authority. Inishowen Funeral Services offer Golden Charter plans and can help advice on taking out a funeral plan. By sitting down and making pre-arrangements before the need arises, you and your family will feel the peace of mind in knowing funds have been set aside and thoughtful decisions have been made. You choose the funeral you want and pay for your funeral director's services at today's prices, saving you money and providing peace of mind. In most cases you and your family will also find this to be less stressful and emotional. Planning ahead allows you to really look at all the options available and choose those that are most fitting. Pre-arranging will relieve your family of the burden in having to guess what you would have wanted and avoid emotional spending. Having the forethought to pre-arrange is one of the greatest gifts for those you may leave behind.
The first and possibly the most difficult step is to call the funeral home. When you sit down with Shaun he discusses all of your options relating to funeral or memorial services. Together you can determine the services and budget that best fit you and your family's needs. A funeral plan isn't something your rushed into, we will provide you with all information and prices to think about. Your enquiry will be treated in complete confidence.
In the event a death occurs and the funeral home has a pre-arrangement on file, the family should call Inishowen funeral home. We are here to serve you anytime of the day or night. If the death occurs outside our service area, we still ask that you call us first and we will make all the necessary arrangements including contacting a funeral home in the area to make the transfer back into our care.
If you or anyone you know has any questions regarding pre-arranging please feel free to contact us at anytime.
Embalming
Inishowen Funeral Services provides a professional
embalming service, with a thorough knowledge of the embalming process, embalming fluids, and utmost care and respect for the deceased. The process of embalming incorporates the hygienic preparation and preservation of a deceased human body in order to delay organic decomposition, and safeguard those who may be in contact with the deceased against the transfer of bacteria and infection. Embalming also restores the deceased to a more acceptable and natural life-like appearance which utimately offers comfort to close family and friends. Embalming delays the natural process of organic decomposition, therefore allowing additional time prior to the funeral and providing the opportunity to share grief and offer support to family and friends. Embalming fulfills the once-only and final opportunity to view a loved one, personally say goodbye and support the emotional needs of grieving family and friends. It confronts the reality that death has occurred and is instrumental to the beginning of a positive grief journey. Shaun has been embalming in Ireland since 2012 and is also a member of The British Institute of Embalmers.
Obituaries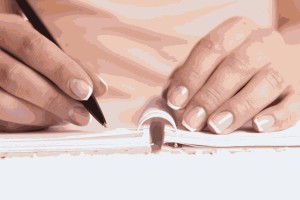 There are three mediums usually used for publishing Funeral Notice:
Local Radio – Death announcements and funeral arrangements are aired on Highland Radio or requested radio channel.
RIP.ie – This is Ireland largest website for publishing funeral notices.
Facebook / Social Media / Blog – Social Media is now a common means of publishing death notices, this mediums get a reach as strong as the local radio and is very effective while remaining respectful.
Some mediums can be quite strict on the wording of notices, so we aim to structure a notice which is in accordance with the wishes of the family whilst remaining within the publishers guidelines.
Flowers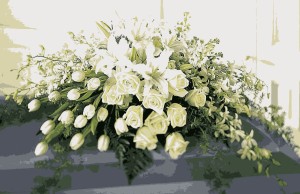 Traditionally, the sending of flowers and funeral wreaths is seen as a gesture of both sympathy and support for family members of the deceased. Whether they be for a grave or for the family home flowers are usually very much appreciated. On some occasions the family may have alternative requests such as donations be made to a particular charity, hospital or hospice. This decision will be announced on the obituary notice.
We can on request arrange flowers for the funeral with a local florist or can advise you a list of trusted local florists to arrange your own.
Headstones
We can supply headstones on request and help with inscriptions. There are many different types of headstones and fonts to choose from, please ask one of our directors for more information.
Condolence Books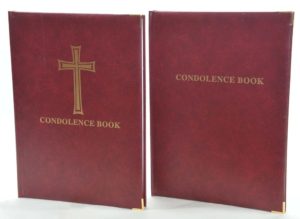 Condolence Book is a funeral memorial keepsake. Often you will see a Guest Book in the hallway of the wake house . We provide the condolence books across with the option of a cross on the cover.
Music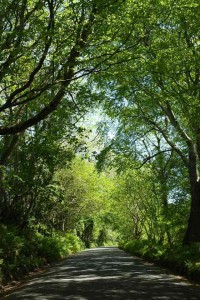 For a lot of families, music can be an integral part of the Funeral Ceremony. We can help to arrange the musical requirements of your family whilst complying with normal practises were necessary.
Funeral Service Music
With all funerals being unique in there own way, we find it best to discuss the music requirements with the family. Options might include: A family member/ friend, a choir, a C.D., a bagpiper to play outside the church. Depending on the normal practises of the church, some of these options might not be applicable. For example, music during the funeral service can vary depending on the traditions of the church, with the majority of Roman Catholic Masses, an organist and singer is traditionally required to provide the music, whereas with Church of Ireland, Methodist and Presbyterian services, an organist is usually all that is required, as the congregation joins in with the hymns.
Cremation Service Music
When a cremation service is to take place, be it after a traditional church service or not, some families like to take a C.D. to be played at the beginning and/or end of the service. Musicians can also play some music if requested.
Mourning Crosses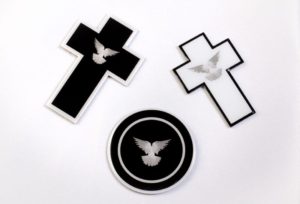 Mourning Crosses are worn by immediate family members at wakes and funerals. We have all attended wakes and funerals where we did not know all of the immediate family of the deceased; therefore, we found it hard to identify who we should sympathise with. The situation can be at best uncomfortable and at worst embarrassing. The distinction of wearing the mourning crosses serves the surviving family as well as the sympathetic visitors. Families benefit from the increased number of people who can share comforting words and cherished memories. And visitors feel the value of their presence when they are able to express their condolences to the mourning family. The symbols are available with a traditional Christian cross and non-denominational Circle of Life.  They both have a motif of a wide spanned dove in the centre. We also provide both a white cross and circle which are worn by children.
The mourning cross have a butterfly clasp and are suitable to be worn on all clothing.
Gravemarkers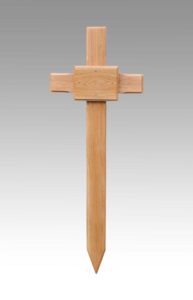 Inishowen Funeral Service provide solid oak grave makers. We place a customed engraved brass plaque on each marker. This is a temporary marker until the headstone is ready.
Funeral Home Set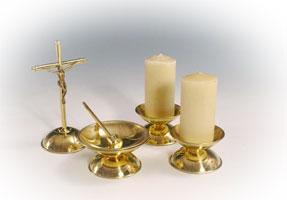 Inishowen Funeral Service provide brass funeral sets for wakes and funerals.
We also provide candles and brass crosses for wakes and funerals – picture on the right.
Contact Us
Our directors are on call twenty-four hours a day every day of the year, ready to serve our community and those in need during their hour of loss.
Roxtown, Tooban, Burnfoot, Co. Donegal